Check out the new Deviant of the Week on my front page (above profile comments)!
Back in July I went to Labyrinth of Jareth Masquerade and never shared photos~

lent me her gorgeous sunflower fairy costume and wings! I decided to jazz it up by restyling her wig and decoing some thrift store shoes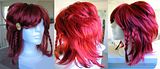 I restyled the wig so that it was a lot more texturized and had more volume by teasing it. I added a braided fringe and let me tell you, braiding a fringe on a wig is HARD, so many short hairs fffffff!! Also being a fan of asymmetry, on one side I did 2 fatter braids and the other, 3 thinner braids. I wanted something cute but simple for the ball.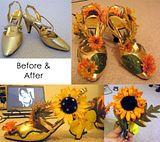 These were 5 dollar shoes from the Goodwill I redecorated with sunflowers! By the end of the night the sunflowers on the heels fell off orz
I also made a cute bracelet with an autumn themed bird! But here are some photos from that night~ As you can see I went a bit crazy with my makeup haha
Finishing up getting ready in the hotel with the lovely Ms. Narusegawa as the animal fairy! It was an explosion of costumes in there haha.
Myself with the lovely *
Lillyxandra
!
Group shot with Manzi, *
Lillyxandra
, Daisy and ~
Shiya
Almost the entire group I went with! A bunch of us wore creations by Lillyxandra.
Gettin mah drank on, and I look derpy here but you can see some of my eye makeup~
Backshot of the wings~
Next three are picture whoring fun with

in the restroom!
Overall I had tons of fun!! The entire place was FILLED with the most talented and creative fantasy costumes I have ever seen. This will definitely be an annual tradition!